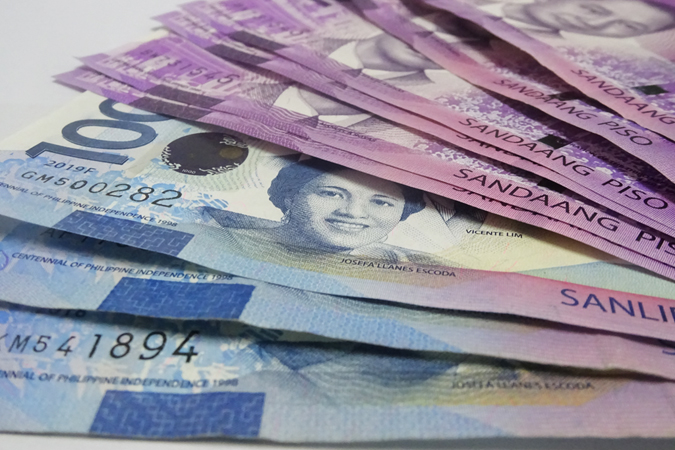 THE PESO may strengthen against the dollar this week after the central bank cut borrowing costs anew and on continued progress in trials for coronavirus disease 2019 (COVID-19) vaccine candidates.
The local unit closed at P48.23 on Friday, rising by 8.5 centavos from its P48.315 finish on Thursday, data from the Bankers Association of the Philippines showed.
Week on week, however, the peso declined by two centavos from its P48.21 finish on Nov. 13.
Rizal Commercial Banking Corp. Chief Economist Michael L. Ricafort said the peso strengthened after the Bangko Sentral ng Pilipinas (BSP) slashed key interest rates to new record lows.
"This will help boost economic recovery prospects in terms of further reducing borrowing costs, spur greater demand for loans that boost investments, jobs, economic opportunities, and more gains in the local financial markets," Mr. Ricafort said.
The BSP Monetary Board on Thursday unexpectedly slashed benchmark interest rates by another 25 basis points to accelerate economic recovery amid the surge of COVID-19 cases in certain countries.
This brought down the rates on the BSP's overnight reverse repurchase, lending and deposit facilities to new record lows of 2%, 2.5%, and 1.5%, respectively.
For this week, Mr. Ricafort said the peso may continue rising as the government disburses more funds out of the P165.5 billion programmed under Republic Act 11494 or the Bayanihan to Recover as One Act.
"The peso could be stronger with faster utilization of the Bayanihan II Law funds that could lead to faster economic recovery," he said in an e-mail.
Meanwhile, a trader said the peso may also strengthen as drug companies advance in their development of COVID-19 vaccines.
Pharmaceutical companies and research centers around the world are working on potential COVID-19 vaccines, with large global trials of several of the candidates involving tens of thousands of participants underway, Reuters reported.
The US Food and Drug Administration's outside advisers will meet on Dec. 10 to discuss whether to authorize the COVID-19 vaccine developed by Pfizer, Inc. and German partner BioNTech for emergency use, the agency said on Friday.
Meanwhile, AstraZeneca started late-stage trials on Saturday of an experimental long-acting monoclonal antibody combination drug it hopes could be used as a so-called prophylactic to prevent COVID-19 infection in at-risk people for up to 12 months.
The dollar on Friday rose against major currencies such as the euro and yen, with traders consolidating positions amid competing forces that pull the currency in different directions: the surge in virus cases, on the one hand, and positive vaccine news, on the other.
For this week, Mr. Ricafort sees the peso moving from P48.10 to P48.35 versus the dollar, while the trader expects it to range from P48.15 to P48.30. — KKTJ with Reuters